It's a tradition. St. Patrick's Day is to be celebrated – especially in Zion Canyon. Every year, it seems that the most celebrated springtime event in Springdale is the celebration of all things green. Not only do we start to see green grass and flowering buds – in Springdale, we begin to see leprechauns, belly dancers, Jell-o and more! Springdale's St. Patrick's Day parade, green Jell-o sculpture contest, and other festivities attract hundreds of bystanders every year. This year was no different.
In the past, Zion Adventure's staff has had the opportunity to be involved with these activities, but this year we went all out! Many members of our team (myself included!) jumped aboard the Overland Unimog in crazy outfits and hair-dos, and set out for a great time in the parade. Our signature parade production involved the entire team getting "ran over" by the Unimog.
Check out the video! The ZAC float starts at about TIME: 3:10. You can also find more info, videos, and photos on Springdale's facebook page: http://www.facebook.com/Springdale.Utah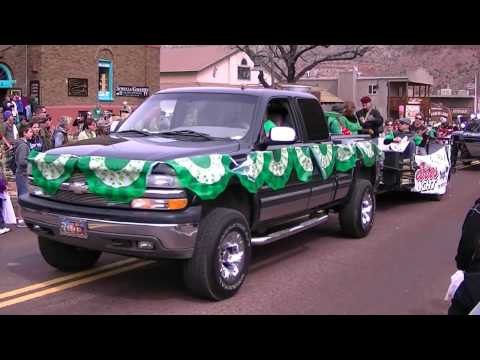 In addition to having a great time, we received the "Best Float" award in the parade, and our own team member Lanell Dike and her friends received "Best in Show" in the Jell-o sculpture contest for their full-sized Jell-o woman. Way to go team! It's time to celebrate.